Have you ever wondered how long your snowblower will last before it calls it quits? Whether you are a seasoned snow warrior or a new homeowner preparing for the winter season, knowing the average lifespan of a snowblower is essential for making informed decisions about maintenance, repairs, or even purchasing a new one. In this article, we will explore the factors that can affect the lifespan of your snowblower and provide some tips on how to extend its longevity, ensuring that you stay prepared for those snowy days for years to come.
Factors that Affect the Lifespan of a Snowblower
Snowblowers can be a valuable investment for anyone living in an area with heavy snowfall. However, the lifespan of a snowblower can vary depending on several factors. In this article, we will explore the key factors that affect the lifespan of a snowblower, including the quality of build, frequency of use, maintenance, and storage. Understanding these factors will help you make an informed decision when purchasing a snowblower and help you prolong its lifespan.
Quality of Build
The quality of build plays a significant role in determining the lifespan of a snowblower. A snowblower that is built with high-quality materials and components is likely to last longer than one made with cheaper materials. When considering the quality of build, there are several factors to consider.
Materials Used
Snowblowers can be made with various materials, including plastic, steel, and aluminum. Snowblowers made with steel or aluminum are generally more durable and long-lasting compared to those made with plastic. The plastic components are more prone to cracking or breaking under heavy use or extreme cold temperatures. Therefore, it is important to choose a snowblower that is constructed using high-quality materials, especially if you live in an area with frequent heavy snowfall.
Brand Reputation
The reputation of the brand is another important factor to consider when assessing the quality of build. Brands that have a long history of manufacturing reliable and durable snowblowers are likely to produce models with a longer lifespan. Researching and reading customer reviews can give you valuable insights into the reputation of different brands, helping you make an informed decision.
Technology and Features
The technology and features incorporated into a snowblower can also affect its lifespan. Snowblowers with advanced features, such as self-propulsion or heated handles, may have more components that can potentially break or wear out over time. While these features can enhance the user experience, it is essential to consider the longevity of these additional components and whether they are necessary for your specific needs. Opting for a simpler model without excessive features may increase the lifespan of your snowblower.
Frequency of Use
The frequency of use is another critical factor that can impact the lifespan of your snowblower. Snowblowers used in residential settings generally have a different lifespan compared to those used in commercial settings.
Residential Usage
If you only use your snowblower for clearing your residential driveway and sidewalks, it is likely to have a longer lifespan. Residential snowblowers are typically designed for intermittent use and can last several years with proper maintenance and care. However, it is important not to overload the machine by attempting to clear excessive amounts of snow in a single session. Overworking the snowblower can put unnecessary strain on its components and shorten its lifespan. Remember to take breaks and allow the machine to cool down if you're clearing a large area.
Commercial Usage
Commercial-grade snowblowers are designed to withstand heavy and continuous use. They are built to clear large areas, such as parking lots or commercial properties, and are generally more durable and robust. However, due to the rigorous demands of commercial usage, the lifespan of these snowblowers may be shorter compared to residential models. If you are using a snowblower for commercial purposes, it is crucial to choose a high-quality model with a robust build to ensure its longevity.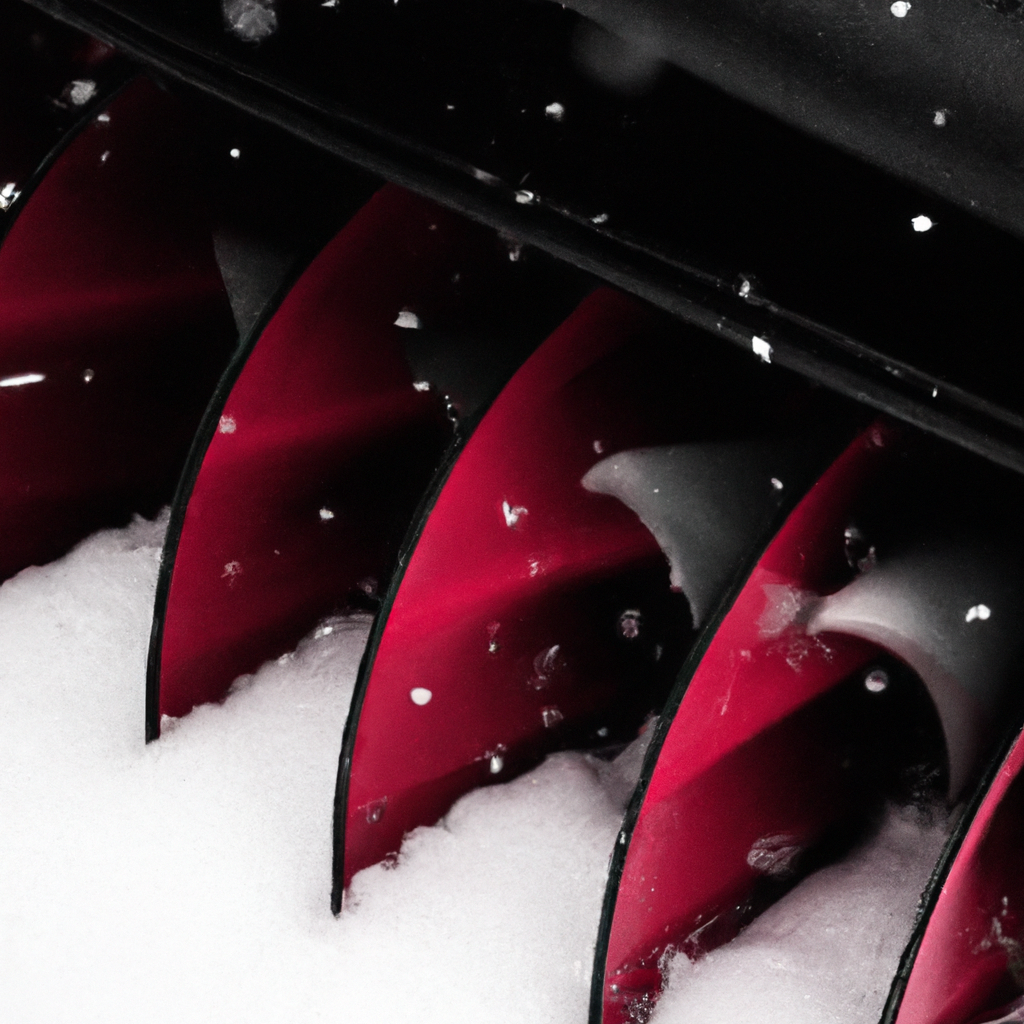 Maintenance
Regular maintenance is vital to keep your snowblower running smoothly and extend its lifespan. Neglecting maintenance tasks can lead to premature wear and tear of the machine's components. Here are some essential maintenance tasks to keep in mind.
Regular Cleaning
After each use, it is important to clean your snowblower thoroughly. Clear any snow and debris from the chute, auger, and other components. This prevents buildup that can lead to clogs or damage the machine. Use a brush or scraper to remove any stuck-on snow or ice. Also, regularly inspect the chute for any damage or blockages and remove them promptly.
Oil Changes
Regular oil changes are essential to ensure proper lubrication of the snowblower's engine. Check the owner's manual for the recommended oil change intervals and follow them diligently. Fresh oil helps reduce friction and wear on the engine, keeping it in optimal condition.
Spark Plug Replacement
The spark plug is responsible for igniting the fuel in the engine. Over time, spark plugs can become dirty or worn, leading to decreased engine performance. Regularly inspect the spark plug and replace it according to the manufacturer's recommendations. A well-maintained spark plug contributes to smooth engine operation and extends the lifespan of your snowblower.
Belt and Auger Maintenance
The belts and augers are critical components of the snowblower that require regular maintenance. Inspect the belts for signs of wear or fraying and replace them as necessary. Lubricate the auger shaft and ensure it rotates smoothly. Regular maintenance of these components ensures that your snowblower operates efficiently and reduces the risk of breakdowns.
Storage
Proper storage of your snowblower during the off-season can significantly impact its lifespan. Taking the necessary precautions will protect the machine from the elements and ensure it is ready for use when the next snowfall arrives.
Indoor vs. Outdoor Storage
Storing your snowblower indoors, such as in a garage or shed, is preferable to outdoor storage. Exposure to extreme temperatures, moisture, and other environmental factors can accelerate the wear and tear on the machine. If indoor storage is not possible, consider investing in a snowblower cover to protect it from the elements.
Proper Shelter
If you must store your snowblower outdoors, make sure to provide proper shelter. A durable and weatherproof shed or enclosure can shield the machine from direct sunlight, rain, and snow. A simple tarp or cover may not provide adequate protection, so investing in a suitable shelter is worth considering.
Fuel Stabilization
Before storing your snowblower for an extended period, it is important to stabilize the fuel. Leaving untreated fuel in the tank can lead to carburetor issues and other fuel system problems. Use a fuel stabilizer as recommended by the manufacturer to prevent fuel deterioration. Run the engine for a few minutes after adding the stabilizer to ensure it circulates throughout the system.
Off-Season Preparation
Prepare your snowblower for the off-season properly. Clean the machine thoroughly and remove any leftover snow or debris. Inspect all components for signs of damage or wear and address any issues before storing it. Lubricate moving parts, such as the auger and chute, to prevent rust and ensure smooth operation. Follow the manufacturer's recommendations for specific off-season preparation tasks.
Average Lifespan Range of Snowblowers
The average lifespan of a snowblower can vary depending on its quality, usage, maintenance, and other factors. Here is an overview of the average lifespan ranges for different types of snowblowers.
Entry-Level Snowblowers
Entry-level snowblowers typically have a lifespan ranging from 5 to 10 years. These models are generally more affordable but may not offer the same level of durability and performance as higher-end options. Proper maintenance and care can help extend their lifespan.
Mid-Range Snowblowers
Mid-range snowblowers, which offer a balance between price and quality, can last between 10 and 15 years. These models are often more durable and feature better components compared to entry-level options. Investing in a mid-range snowblower can offer a longer lifespan and better performance.
High-End Snowblowers
High-end snowblowers are built with top-quality materials and advanced features, resulting in a longer lifespan. These models can last anywhere from 15 to 20 years or even more with proper maintenance and care. Although high-end snowblowers come with a higher price tag, they often provide superior performance and durability.
Commercial-Grade Snowblowers
Commercial-grade snowblowers are designed for heavy-duty usage and are built to withstand demanding conditions. With regular maintenance and proper care, commercial-grade snowblowers can last between 20 and 30 years. These models are a significant investment but are well-suited for professional use and are built to last.
Signs Your Snowblower May Need Replacement
While regular maintenance and care can extend the lifespan of your snowblower, there may come a time when replacement is necessary. Here are some signs that indicate your snowblower may need to be replaced.
Frequent Breakdowns
If your snowblower is frequently experiencing breakdowns or requires frequent repairs, it may be a sign that it is reaching the end of its lifespan. Constant issues can indicate that the machine's components are wearing out and may no longer be efficient or cost-effective to repair.
Lack of Power
A decrease in power and performance can be a sign that your snowblower is nearing the end of its lifespan. If the machine consistently struggles to clear snow or seems to lack power, it may be time to consider a replacement. Aging components and wear can impact the snowblower's ability to operate at optimal levels.
Excessive Vibration
Excessive vibration during operation can indicate worn-out or damaged components. Vibrations can lead to further damage and compromise the overall performance and longevity of the snowblower. If you notice excessive vibrations that cannot be resolved with repairs, it may be time to invest in a new machine.
Rust and Corrosion
Rust and corrosion can significantly impact the lifespan of a snowblower. Excessive rust can weaken the machine's structural integrity, leading to potential breakdowns. If you notice extensive rust or corrosion on critical components, it may be a sign that your snowblower needs to be replaced.
Unavailability of Spare Parts
As snowblowers age, finding spare parts for repairs can become increasingly challenging. If you are unable to find the necessary replacement parts to keep your snowblower in proper working condition, it may be an indication that it is time to consider purchasing a new snowblower. Using incompatible or subpar replacement parts can further damage the machine.
Prolonging the Lifespan of Your Snowblower
While the lifespan of a snowblower is influenced by various factors, there are measures you can take to prolong its lifespan and ensure its optimal performance.
Choose a High-Quality Brand
An essential step in extending the lifespan of your snowblower is selecting a high-quality brand known for durability and reliability. Research different brands and read customer reviews to ensure you choose a reputable manufacturer. Investing in a well-built snowblower from the start can save you money in the long run.
Follow the Manufacturer's Maintenance Schedule
Adhering to the recommended maintenance schedule provided by the manufacturer is crucial. Regularly inspecting and addressing any potential issues, such as replacing spark plugs or lubricating moving parts, can prevent major problems down the line and prolong the lifespan of your snowblower. The owner's manual should provide valuable guidance on maintenance tasks and intervals.
Proper Storage Techniques
Properly storing your snowblower during the off-season is vital in maintaining its longevity. Follow the storage tips mentioned earlier, such as storing the machine indoors, providing suitable shelter if stored outdoors, and using fuel stabilizer. Taking these precautions will protect your snowblower from damage and ensure it is ready for use when the next winter season arrives.
Avoid Overworking the Machine
While it can be tempting to clear large amounts of snow in one session, avoid overworking your snowblower. Overloading the machine with excessive snow can strain the engine and other components, leading to a shorter lifespan. Take breaks and allow the snowblower to cool down if you are clearing a large area. Clearing smaller amounts of snow at a time will help maintain the longevity of your machine.
Conclusion
The average lifespan of a snowblower varies depending on factors such as the quality of build, frequency of use, maintenance, and storage. By considering these factors and following proper maintenance and care techniques, you can maximize the lifespan of your snowblower. Choosing a high-quality brand, adhering to the manufacturer's maintenance schedule, properly storing your snowblower, and avoiding overworking the machine are essential steps in ensuring its longevity. Though it may eventually require replacement, regular maintenance and care will help you get the most out of your investment and keep your driveway and sidewalks clear for many winters to come.